31 Days of SMA: From the Playground — a Daughter's Perspective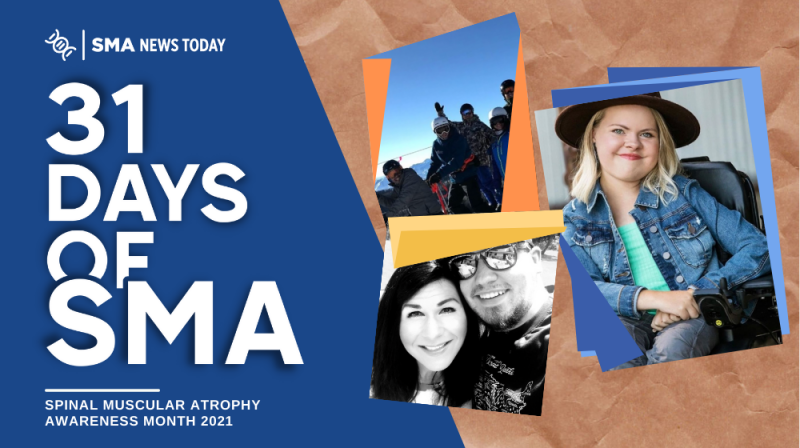 Day 7 of 31
This is Scarlett Przybylski's story:
Hi, my name is Scarlett! I just turned 4. Next year I will turn 5! I had a Pokémon birthday, and Pikachu is my favorite!
I have a mama and a papa. My papa's name is Chris. My mama's name is Sam. My papa walks and so do I, but my mama has a wheelchair. Her legs don't work like mine do.
My favorite part of her wheelchair is the wheels because they can go so fast! We can get to the park really fast. I stand on her foot pedals so she can hang on tight to me. Sometimes she lets me ride on the back, but I have to be really careful not to fall off.
On the way to the park, I have to watch for ramps because my mama can't go up stairs. I like to go up and down the stairs at the park, though. My mama watches me from below the tall playground jungle gyms, taking my picture and watching me go down the slides.
My mama doesn't exercise at the park like I do. She goes to physical therapy. A lady named Sharon helps her move her arms and legs. Papa and I go to drop mama off and pick her up. We ride in our van to get there.
Our van is new and has a special ramp that I like to run up. My mama drives up the ramp in her wheelchair, and my papa buckles me in first, and then my mama. She has lots of buckles to keep her wheelchair from moving.
When we get home, I take off my shoes. I help my mama get her shoes off, too. I like to untie her laces and pull them off to help her out. She then helps me by making me a snack. My mama helps me throughout the day, but she needs help from people, too! So, our whole family works hard to help each other in unique ways.
SMA News Today's 31 Days of SMA campaign will publish one story per day for SMA Awareness Month in August. Follow us on Facebook and Instagram for more stories like this, using the hashtag #31DaysofSMA, or read the full series.