Lean on Me — Literally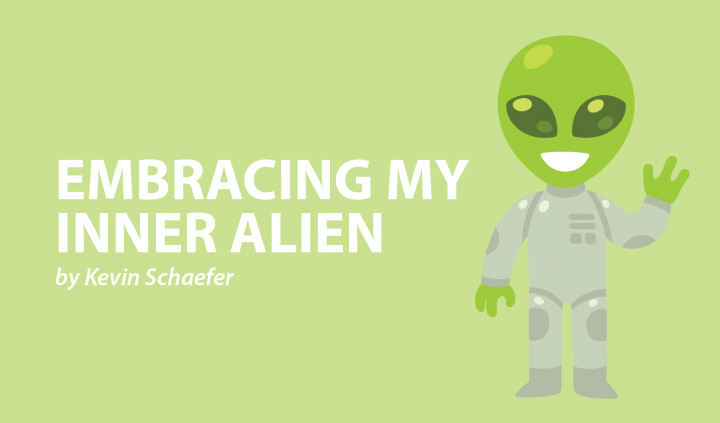 "I can't carry it for you, but I can carry you!" Samwise Gamgee shouts in "The Lord of the Rings," as he carries Frodo up Mount Doom to destroy the ring of power. It's an iconic tear-jerker movie moment, and it makes even the toughest of viewers turn into glass cases of emotion. 
The reason this scene is so iconic is that it exemplifies brotherly love and sacrifice in its purest form. When Frodo finds himself physically unable to complete his mission alone, his faithful companion is there to pick him up. As an individual with SMA, this is a notion I can relate to constantly. Part of the way I achieve independence is by depending on others for my physical needs. 
Six years ago, I met my Samwise Gamgee when I began the search for personal care assistants. Granted, my Sam is a very irreverent one, whose twisted sense of humor mirrors my own.
"Hey Randy, how come you didn't go to the adults' session with me at the SMA conference last year?"
"I didn't want to get there and have everyone ask me to help them."  
This is but one example of the myriad exchanges we've had that the general public would deem inappropriate and offensive. I knew from our first encounter that Randy and I were made for each other. 
Yet, as I think back to our first meeting, there was little indication that our relationship would last long. Whereas I was just beginning the process of acquiring caregivers, Randy was planning to transition away from his role as a certified nursing assistant. He had been doing this job for a couple years, and he came from a family of medical professionals. Still, he wanted to do other things. 
I guess when he met me, I was too irresistible for him to go looking for another career. It was bromance at first sight. 
Today, Randy remains my primary caregiver. The longevity of our relationship is extremely rare in the world of home healthcare. I've had other caregivers who have lasted a few months. Some were with me a few weeks, and some I only interacted with once or twice. 
In our six years together, our relationship has extended well beyond the narrow confines of my room. We've traveled together to the following cities: Charlotte, Orlando, Dallas, Los Angeles, Boston, and Philadelphia. Each trip came with its own adventures and idiosyncrasies. 
At our hotel in Disneyland, we came close to inciting a public incident when my bathing suit slipped as Randy lowered me into the swimming pool. In Philadelphia, I put my job on the line by letting Randy tell my co-workers (HR included) about a date he once went on with a woman who was extremely high. 
He's seen me graduate college, become an uncle, begin my adult career, and fail and succeed in my romantic endeavors. I've seen him meet the love of his life, start a career in insurance, get married, become an uncle, and burst through the doors of the church building at the last minute for my brother's wedding. I was also there at his brother's funeral, just a few months after we met. 
Randy and I have been through it all together. We've laughed, loved, driven each other crazy, been angry, put each other down, and lifted each other up. We've seen each other in times of crisis, and in times of inexplicable happiness. To compare our relationship to a marriage isn't too far off. 
I used to be filled with anxiety about how I would ever find caregivers other than my parents. That idea seemed more like a fantasy after I had encountered so many setbacks and frustrations. Still, I knew I had to take that initial step of searching if I wanted anything in my life to change for the better. Oh, how glad I am today that I took that step. 
It may sound strange, but there's a sense of freedom that comes with putting your life in the hands of someone you can trust unconditionally. Through everything we've been through together, Randy has been a constant in my life. Even on our tensest days, I never had to worry about him not being there. 
So, as our "work" anniversary approaches, I dedicate this column to my brother, my friend, my irreverent Samwise Gamgee, and my favorite butt-wiper. 
***
Note: SMA News Today is strictly a news and information website about the disease. It does not provide medical advice, diagnosis, or treatment. This content is not intended to be a substitute for professional medical advice, diagnosis, or treatment. Always seek the advice of your physician or other qualified health provider with any questions you may have regarding a medical condition. Never disregard professional medical advice or delay in seeking it because of something you have read on this website. The opinions expressed in this column are not those of SMA News Today, or its parent company, BioNews Services, and are intended to spark discussion about issues pertaining to spinal muscular atrophy.