Eating a Monster Meal with Friends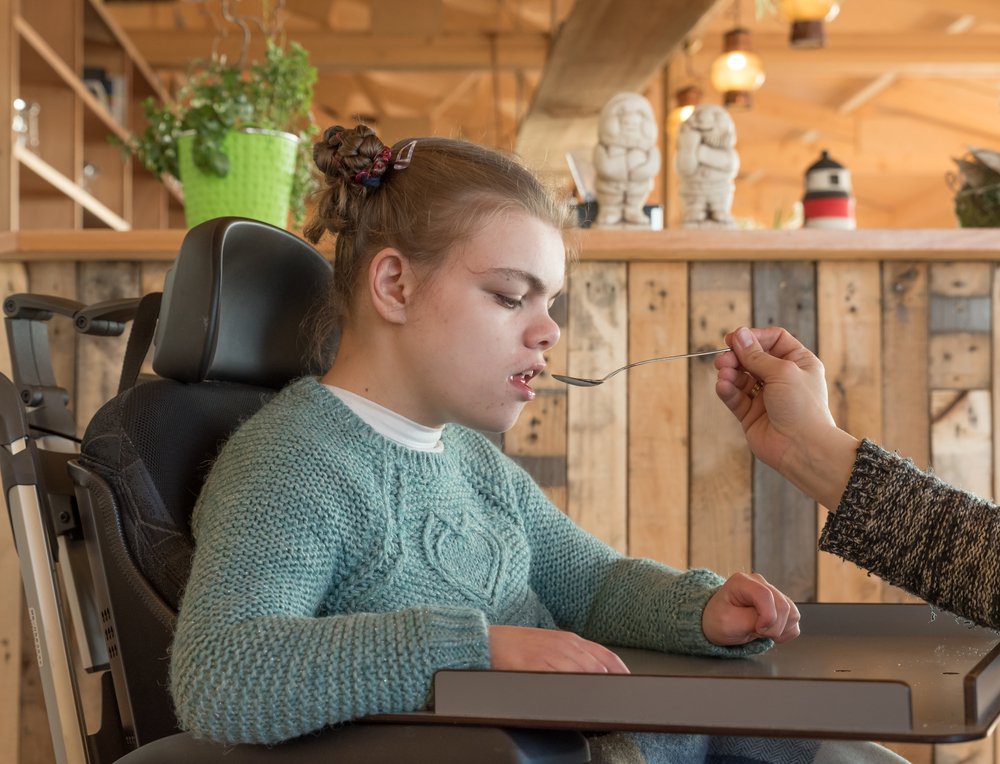 Last night, I asked my dad what I should write about for my next column about life with spinal muscular atrophy (SMA).
"Why you don't write about the struggles you have with eating?" he suggested.
I laughed. "No one wants to listen to me complain about all the foods I can't eat."
"But it's more than that. So much of society revolves around food: getting coffee with a couple of friends, going on a date to a fancy restaurant. You can't do either of those things," he persisted.
I thought of all the times I've gone out with friends — the renaissance festival, or a convention, or even just a trip to the mall. We stop at a booth or a food court and they ask me if I'm hungry, do I want them to get me anything to eat, is there anything I'd like them to grab? And I respond with my cursory (memorized, really, at this point), "I'm not that hungry. Thanks, though!" They shrug, disperse, come back five minutes later with a latte or, in the case of the renaissance festival, a huge, steaming leg of unidentifiable meat.
It's not always a lie. Sometimes I'm really not hungry — my feeding pump runs throughout the night, so if they ask me early enough in the day, the 1,000 milliliters of formula haven't quite run their course yet. But once the hunger kicks in, usually around 4 p.m., there's nothing I can do but sit and watch my friends eat Cheez-Its, or donuts, or whatever they brought for our Mass Effect gaming session, and try not to think about it.
Part of it is my inability, because of SMA, to feed myself, and the shame that comes with that. There aren't many people in this world that are allowed to feed me — my parents, of course; my aunt and cousin; my PCA. One of my friends actually got to the point where she was comfortable enough to pop Reese's Pieces in my mouth as we binge-watched "Stargate SG-1." But that's about the extent of it.
Whenever my father suggests asking one of my friends to help me eat, saying, "I'm sure they'd be fine with it; they're already so comfortable around you, and besides, it's not like it's that big of a deal," I shake my head and say, "Nah, it's OK, I'll just sit here and pretend the Cheez-Its don't actually look all that good."
Which is, of course, an impossibility. Cheez-Its always look good to me.
I wish I knew why I feel this way. A lot of it is, I think, my eating process: a series of face contortions, one after another, with exaggerated swallowing motions and quiet or, really somewhat loud — depending on how tired I am — gasping noises. I don't want people to see that part of me, the part that remains me so much of a monster, with its protruding, incongruous parts. My crooked teeth need to stay sheathed.
So the fact of the matter is this: I could, technically, go out for coffee, if I wanted to. I could have one of my friends grab a bendy straw from the clear plastic bag in my backpack, bring the cup to my lips, try to coax the straw between my gaping maw of off-white teeth. I could. But why bother? I don't even like coffee. And besides, isn't it better to just let my friends refuel their fallible, temporary bodies, and keep my own fueling process — which reminds me, somewhat, of a gas station: hooking myself up to a pump every night before I go to bed, filling my stomach/tank with formula/fuel — a secret?
I never want to complicate things. And that's just how my life has been for the past 21 years. Friends were rare growing up. I didn't want to risk alienating them by letting the monster in me poke its head out. But things have changed. Are continuing to change.
Maybe someday I'll learn to embrace my monster, even when that means letting someone shovel ice cream in my mouth, even when it melts, even when I have a milky-white stream of tiny chocolate chips dribbling down my chin in the middle of a food court in the light of day. Someday.
***
Note: SMA News Today is strictly a news and information website about the disease. It does not provide medical advice, diagnosis, or treatment. This content is not intended to be a substitute for professional medical advice, diagnosis, or treatment. Always seek the advice of your physician or other qualified health provider with any questions you may have regarding a medical condition. Never disregard professional medical advice or delay in seeking it because of something you have read on this website. The opinions expressed in this column are not those of SMA News Today or its parent company, BioNews Services, and are intended to spark discussion about issues pertaining to spinal muscular atrophy.