The Humorous Interactions That Stay with Me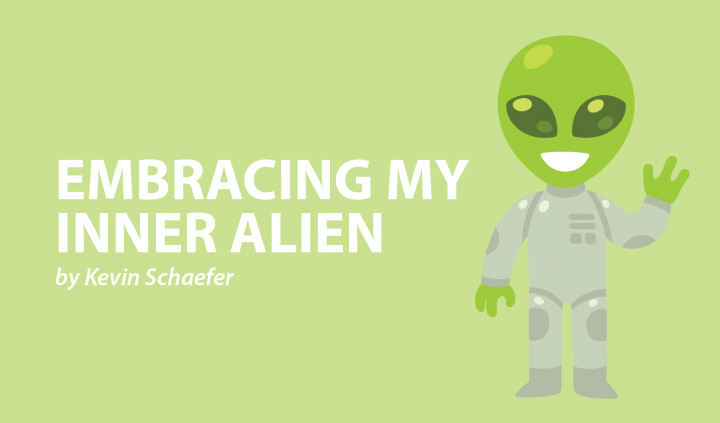 A few months ago, my colleague Brianna Albers wrote an excellent column about ableism in interactions with strangers. People pity those with disabilities and say things such as, "I'm so sorry for this horrible thing you have to live with." I've written about this sentiment many times as well.
These interactions are frustrating and happen quite regularly to people like me. Yet in my 26 years of living with SMA, I've also experienced some particularly humorous interactions, from unforgettable one-liners to amusing conversations. 
Getting mixed up with Kevan Chandler
I was with some friends at Barnes & Noble on New Year's Eve. We're party animals, so we sat in the cafe and listed our favorite movies of the decade. A woman I didn't know approached me with a starstruck look in her eyes. Unless she was a super fan of my performance in "A Midsummer Night's Dream" when I was in eighth grade, I wasn't sure why she recognized me.
Then she said, "Excuse me, are you the world traveler who designed the adaptive backpacks?" 
Ah.
I told her that she confused me with the other Kevan with SMA, who is infinitely more famous than I am. Kevan Chandler is a renowned adventurer and writer and helped develop adaptive backpacks for people with disabilities. He has red hair, no glasses, and his beard is less rugged than mine, but apparently, people in wheelchairs all look the same. 
The car experts who marvel at our adaptive van
In 2016, my family bought an MV-1, the first American vehicle designed specifically for wheelchair users. It looks more like a tank than a van, and I get to ride shotgun whenever we drive it. 
I'd be able to buy four more cars if I had half of a penny for every time a car "expert" approached my parents or me to say, "What is that?!" Just the other day, I went to a hockey game with my family. An automobile expert stopped me in the parking lot. I've explained what the MV-1 is so many times that I might as well be a spokesperson for Mobility Ventures.
Ironically, people focus so much on the car that they fail to notice the robotic arm on the side of my chair. 
The Seeing Eye dog comment
Back when I took my service dog with me everywhere, I received numerous comments and questions about her. Most people requested to pet her or asked what she could do for me. But some people said, "Look, that's a Seeing Eye dog!"
Now, I'm no mathematician, but I would love for someone to calculate the probability of a blind person successfully operating a power wheelchair. Believe it or not, a hospital intern once said that. If only I had a pair of sunglasses with me at the time. 
The big head comment
Many parents seem to think that people with disabilities don't want kids to bother them with questions. On the contrary, I am always happy to talk to kids when they inquire about my disability. The more I can teach kids to interact with people in wheelchairs as they do with everyone else, the better. 
I've lost track of how many times children have asked me questions such as, "What happened?" or, "Why are you in a wheelchair?" Nevertheless, one of the best things a kid has ever said to me was years ago. I don't remember where I was, but I'll never forget the comment. 
"You have a big head," was all the boy said to me before walking away. He was an observant young lad. I have a noggin so big that it took me years to figure out how to balance it properly. 
Living with SMA leads to all kinds of memorable interactions with people. I find it cathartic to reflect on the more amusing ones. Now that we've made it to a new year and a new decade, I'm sure I'll have plenty more stories in the future. Perhaps some stranger will be bold enough to ask me how I go to the bathroom, and I will direct them to this column. My editors still bemoan that one. 
Happy New Year!
***
Note: SMA News Today is strictly a news and information website about the disease. It does not provide medical advice, diagnosis, or treatment. This content is not intended to be a substitute for professional medical advice, diagnosis, or treatment. Always seek the advice of your physician or other qualified health provider with any questions you may have regarding a medical condition. Never disregard professional medical advice or delay in seeking it because of something you have read on this website. The opinions expressed in this column are not those of SMA News Today, or its parent company, BioNews Services, and are intended to spark discussion about issues pertaining to spinal muscular atrophy.