Making Big Occasions Inclusive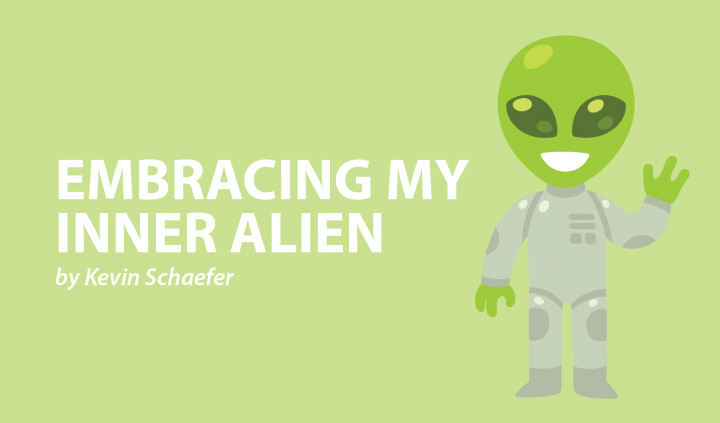 When it came time to plan for my brother's bachelor weekend festivities, I was adamant about participating as much as possible. Events like this aren't always inclusive for people with disabilities, but the two guys who planned this weekend wanted to make it accessible for me. I knew from the start that I wouldn't be able to do everything on the itinerary, but we made sure that I would be included in some way.
On Friday, April 12, my mind was still reeling from the excitement of the new "Star Wars" trailer to pay much attention to anything else. I knew we were supposed to start the weekend with dinner and a Durham Bulls baseball game that night, but I was too focused on the implications of Emperor Palpatine's laugh at the end of the trailer to care.
That night did present more than a few challenges. When my brother-in-law Evan came to pick me up, it had started sprinkling outside and we saw only clouds in the sky. By the time we made it to Durham to meet the guys for dinner, it was steadily raining. For those of you who faithfully read my column, you know that I previously have detailed the intricacies of driving a power wheelchair in the rain. 
Armed with ponchos and an umbrella, Evan and I raced from the parking deck to the restaurant, which was a couple of blocks away. I still got wet, but I was able to dry off once indoors. We ate at a nice burger joint downtown and I was sufficiently entertained by the group's corny pirate jokes and one of our guy's drunken rants about "Star Wars: The Last Jedi." Don't worry, they used Uber services all weekend. Technically, I was the only person in our group who was drinking and driving.
As the rain went from steady to pouring, we correctly predicted the game would be canceled. It was good timing, given that one member of our "Animal House" crew forgot to bring the tickets with him. I've known these guys for years so I was fully prepared for their shenanigans. With no real backup plan, they decided to go to a nearby bar for a little while and then head back to their Airbnb for the night. I attempted to get into the bar, but between its limited accessibility and the heavy rainfall, I told Evan that it wasn't going to work.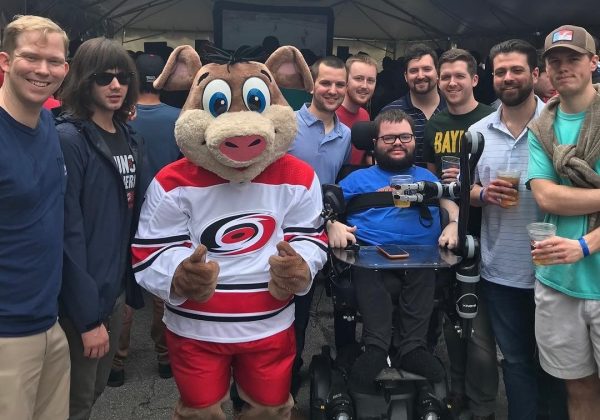 Being the nerds that we are, Evan and I decided to head to a movie theater and see "Shazam!" for a second time. Unfortunately, heavy rain and SMA are a bad combination, but I told my brother Brian that I'd be back the following day for more festivities.
Day two was indeed much more successful. My dad drove me this time, and the weather was warm and sunny. First, I met the guys for a drink (or two) at one of our favorite breweries in downtown Raleigh. Unlike the bar from the previous night, this establishment is easy for me to get in and out of, plus it has plenty of space inside. We hung out there for about an hour and then headed to lunch at one of the best barbecue restaurants in North Carolina.
As we spent the rest of the afternoon hanging out, watching the Carolina Hurricanes playoff game, and simply enjoying each other's company, I was grateful for the inclusive spirit during one of the more important weekends in my brother's life. The groups even rearranged the afternoon schedule so that we could watch the game at an accessible venue downtown instead of trying to get me up the Airbnb's multiple steps to the front entrance.
I'm often reminded of the limitations that SMA slaps on me when I'm out in public. Whether it's an inaccessible venue or I can't get a ride, being left out of something is never fun. This group, however, proved that with a little flexibility and by asking for my input, any big occasion can be made inclusive.
***
Note: SMA News Today is strictly a news and information website about the disease. It does not provide medical advice, diagnosis, or treatment. This content is not intended to be a substitute for professional medical advice, diagnosis, or treatment. Always seek the advice of your physician or other qualified health provider with any questions you may have regarding a medical condition. Never disregard professional medical advice or delay in seeking it because of something you have read on this website. The opinions expressed in this column are not those of SMA News Today, or its parent company, BioNews Services, and are intended to spark discussion about issues pertaining to spinal muscular atrophy.