A Robot Named Otto Transformed My Life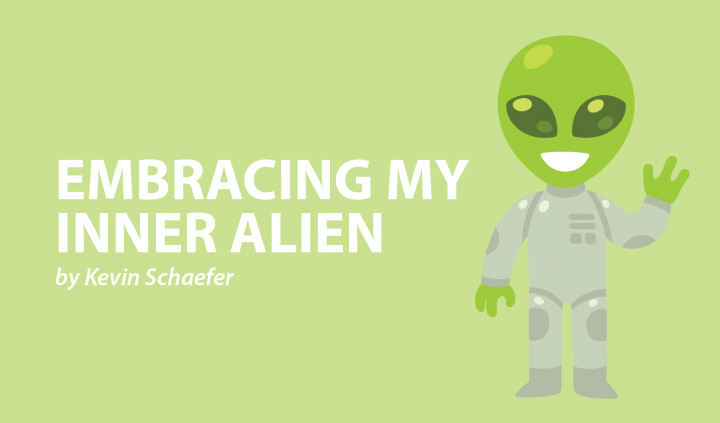 Four years ago, I put on my big-boy pants and finally learned how to feed myself. Throughout my high school and college years, I was too lazy to pick up a fork on my own. Instead, I just played the disability card and relied on the sympathies of friends, family members, and acquaintances to put food in my mouth. 
If this is your first time reading my column, welcome! Please don't take anything I write too seriously. 
Alas, I wasn't faking it in those days. Thanks to my dysfunctional muscle-brain communication system, otherwise known as SMA, I lost a significant amount of upper-body strength in my teenage years. Trust me, I derived no satisfaction from depending on others to feed me and hand me cups with sippy straws like I was a toddler. You can imagine the scene when I had a drink on my 21st birthday. 
However, my life was transformed in 2015 when I acquired my JACO robotic arm. Developed by Kinova Robotics, this device makes other assistive technologies look like plastic toys. 
My parents and I first discovered the JACO earlier that year, after my mom came across information about it online. We then set up an appointment to test out a model with one of Kinova's technicians. We kept our hopes reasonably optimistic. At that point, I had tried other assistive devices to help me increase my independence, but none was successful. 
Yet, as soon as the Kinova technician mounted the JACO arm to the side of my wheelchair, I knew this was it. It was love at first sight. As I operated the arm with the joystick on my chair, I felt a rush of energy surge through my veins. At that moment, I experienced more independence than I had in years. With the technician's guidance, I was able to use the arm to grab my phone, adjust my glasses, and feed myself a cracker. It was a liberating sensation. 
Images of me as General Grievous from "Star Wars" flashed through my mind. 
As we left the appointment, we were determined to pursue getting a JACO for me. The only problem was the $50,000 price tag, and my insurance wouldn't cover it at the time. 
Nevertheless, we all knew how life-changing this device would be for me. We decided crowdfunding was our best option and created a GoFundMe campaign the next day. I knew friends and family would be more than willing to help, but I had no idea how quickly word would spread about my mission. 
Within 24 hours, we had raised more than $1,000. People shared our page across social media, and we got a few businesses to do fundraising events. A post by my entertainment journalist friend went fairly viral — Patton Oswalt retweeted it! 
It took a few months to reach our fundraising goal, but it was well worth the wait. My mom's best friend teamed up with Kinova for the ultimate Christmas surprise, delivering my arm to me on a bright Saturday morning in December. Once the arm connected to my chair, I knew that my life would never be the same. I was ready for my level of independence to skyrocket.
Just like Tony Stark, when he returns home after three months in captivity in the first "Iron Man" movie, I asked for an American cheeseburger. For the first time in years, I put a greasy sandwich into my mouth without anyone's help. 
I named my robotic arm Otto, in reference to the Spider-Man nemesis Otto Octavius/Doc-Ock — this inspired the photo below.
Life before my JACO is hard to imagine at this point. Since acquiring it, I've used it to swing lightsabers, show off my dance moves at weddings, and impress people at comic book conventions. Y'know, important matters. 
For people like me, assistive technologies are game changers. Without Otto, my daily life would be much more difficult. Whereas I was once reminded constantly about my physical limitations, now I have my own technological superpower. 
To all my readers, thank you for putting up with my adolescent humor and endless pop culture references. See you all next year.
***
Note: SMA News Today is strictly a news and information website about the disease. It does not provide medical advice, diagnosis, or treatment. This content is not intended to be a substitute for professional medical advice, diagnosis, or treatment. Always seek the advice of your physician or other qualified health provider with any questions you may have regarding a medical condition. Never disregard professional medical advice or delay in seeking it because of something you have read on this website. The opinions expressed in this column are not those of SMA News Today, or its parent company, BioNews Services, and are intended to spark discussion about issues pertaining to spinal muscular atrophy.