SMA Humor Writes Itself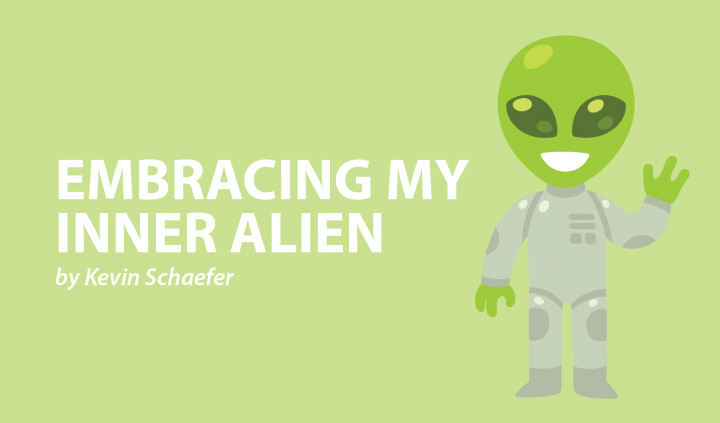 The comedian Brad Williams has a great one-liner about writing jokes. Williams' observational humor is predominantly rooted in his experiences as a man born with achondroplasia, a type of dwarfism. When describing his writing process in the 2015 comedy special "Fun Size," Williams says, "Step one: Be a dwarf. Step two: Wait." 
Oh, how this also rings true in the world of SMA. In my life, humor pops up in the moments when I least expect it. 
Just the other night, we had a power outage in the middle of the night. For most people, this scenario wouldn't be too problematic, given that they'd likely be asleep anyway. In my case, however, several factors added a certain amount of slapstick comedy to the situation. As soon as the power went out, so did my BiPAP machine and my electric hospital bed. 
"Oy, why can't I breathe through my nose right now? And why am I sinking in my bed?" These are just the typical midnight thoughts of an SMAer when something like this happens. 
As the air evaporated from my mattress and I sunk toward the flat surface, I wondered how many people in my age group had encountered this predicament. Fortunately, I'm not critically dependent on my BiPAP, and I can go a night without wearing it. Still, as soon as this device stopped working, I felt like I was in this scene from the movie "Airplane!" 
My parents came in to reposition me and remove my BiPAP mask once they realized the power was out, and all was well. I managed to stay reasonably comfortable for the duration of the night, and our power came back on a few hours later.
Yet, this isn't my only nighttime fiasco story in recent months. Those of us with disabilities never run out of material.
Several weeks ago, I was trying to call my mom to shift me in the middle of the night. Normally, my dad turns me on weekends when my caregiver Randy isn't here. Yet, since Dad's an essential worker and is more likely to contract COVID-19 than my mom, we've decided to limit his physical contact with me for the time being. As such, I'm using my Amazon Alexa device to call my mom at night.
This scene played out like this:
ME: Alexa, drop in on Mom.
ALEXA: Bob has not signed up for Alexa calling and has not granted you permission.
ME: Alexa, drop in on "Mom."
ALEXA: Bob has not signed up for Alexa calling.
ME: Alexa, drop in on MOM!
ALEXA: Bob has not signed up …
ME: ALEXA! C'MON! DROP IN ON MOM!
ALEXA: Bob.
ME: ALEXA! C'MON!!!!
DAD (coming into the room): What's going on?
We later realized that my BiPAP machine transforms my voice into a nasally concoction of muttered noises. I probably sounded like an extraterrestrial struggling to communicate with the people of Earth. We changed my mom's Alexa device name to Yoda. It works now, and all is well.
This is but a glimpse into the zaniness and unpredictability of my everyday life. SMA doesn't come with an off switch, which means that it's always prepared to deliver a sitcom scenario. Even in the midst of isolation, when I don't have the typical ableist encounters to poke fun at, I know that humor will continue to present itself. Sometimes, all I have to do is lie down, remember that I have a disability, and wait.
***
Note: SMA News Today is strictly a news and information website about the disease. It does not provide medical advice, diagnosis, or treatment. This content is not intended to be a substitute for professional medical advice, diagnosis, or treatment. Always seek the advice of your physician or other qualified health provider with any questions you may have regarding a medical condition. Never disregard professional medical advice or delay in seeking it because of something you have read on this website. The opinions expressed in this column are not those of SMA News Today, or its parent company, BioNews Services, and are intended to spark discussion about issues pertaining to spinal muscular atrophy.