Embracing the Power of My Voice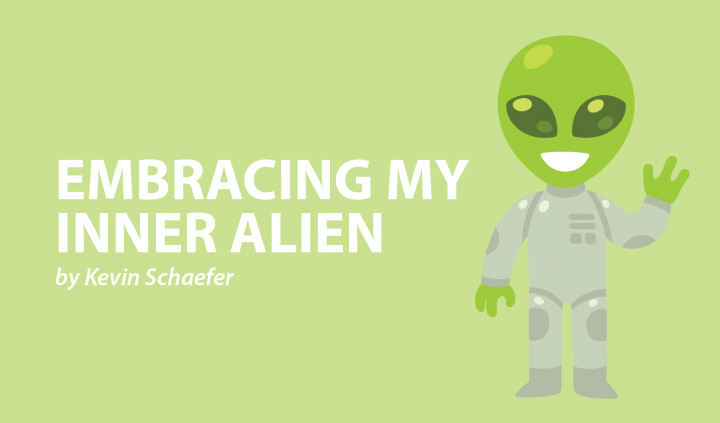 Ever since I was a kid, some of my favorite actors have been those who weren't always in front of the screen. Given my love of animation and motion capture technology, the way that people like Andy Serkis, James Earl Jones, and the late Robin Williams created so many iconic characters through their voices alone mesmerized me. Their work has had a profound impact on me, more so than any celebrity whose face is instantly recognizable. 
My voice has always been a powerful tool for me. Throughout the years, I've used it for both creative outlets and patient advocacy work. While SMA has forced me to adapt to various stages of physical decline, my ability to use my voice has always remained strong. When I was a kid doing school plays and community theater productions, I regularly received comments afterward about how great my speaking voice was. Heck, they even cast me as the voice of the Cyclops in my high school's production of "The Odyssey." 
That's still my favorite role, by the way.
Recently, I've been thinking about how I can exercise my voice more. I'm fortunate to be able to use it for work for the SMA News Today Podcast and flash briefings, but I've been itching to do even more with it. I enjoy working in management and having that stability, but ultimately I'm always looking to fulfill my creative spirit. I often spend my evenings after work writing, and I always have a podcast about creativity on in the background. 
Also, with the advent of Spinraza (nusinersen), my voice is now stronger than it was before I started the treatment. My mom even has to tell me regularly to lower my volume when I'm speaking. 
Last week, I decided to audition for a community theater play that my middle school drama teacher is directing. Though I've been focused on work and other things for the past few years, I've missed acting. It felt good to rehearse, to perform a monologue again, and to be in a studio theater environment. 
The audition was the day after my 10th Spinraza injection, and I felt an incredible surge of energy going into it. I did quite well, and even in the moment of performing, I noticed that my voice was more amplified than it had been. The effects of this little medication have made getting a needle jammed into my neck every four months worth it. 
I'm glad I auditioned, but I decided to pass on that particular show. Ultimately, the rehearsal schedule would have been far too difficult for me to manage on top of work and everything else. While I'm eager to get back into acting, I knew that committing to this show would be unwise for me. Plus, it would have been a lot for my parents and friends to drive me to rehearsals every night. 
Wait, did I just make a mature decision and consider all of the variables before saying yes or no? Help me, I'm an adult now! 
Though I declined to participate in the show, auditioning for it gave me a confidence boost nonetheless. I'm now looking forward to seeking out other opportunities, especially ones related to voice-overs and voice acting. I've been researching the voice-over industry, and about a month ago, I watched a webinar by one of my favorite voice actors, Steve Blum. I'm excited to see where this journey will take me. 
My voice reminds me that I can use my talents for multiple purposes like anyone else. I can use my voice to act, speak at medical conferences, host podcasts, moderate panels at comic cons, and more. There's no need to restrict myself to just one thing. 
Maybe I'm somewhat of a renaissance man in that I love different forms of creativity. Still, I think it's easy for those of us with SMA to spend too much time thinking about our limitations and neglecting the different ways we can apply our talents and abilities. Each of us has a voice and a story to share, and it's time we make ourselves heard.
***
Note: SMA News Today is strictly a news and information website about the disease. It does not provide medical advice, diagnosis, or treatment. This content is not intended to be a substitute for professional medical advice, diagnosis, or treatment. Always seek the advice of your physician or other qualified health provider with any questions you may have regarding a medical condition. Never disregard professional medical advice or delay in seeking it because of something you have read on this website. The opinions expressed in this column are not those of SMA News Today, or its parent company, BioNews Services, and are intended to spark discussion about issues pertaining to spinal muscular atrophy.