Danyelle Sun on Having Two Children With SMA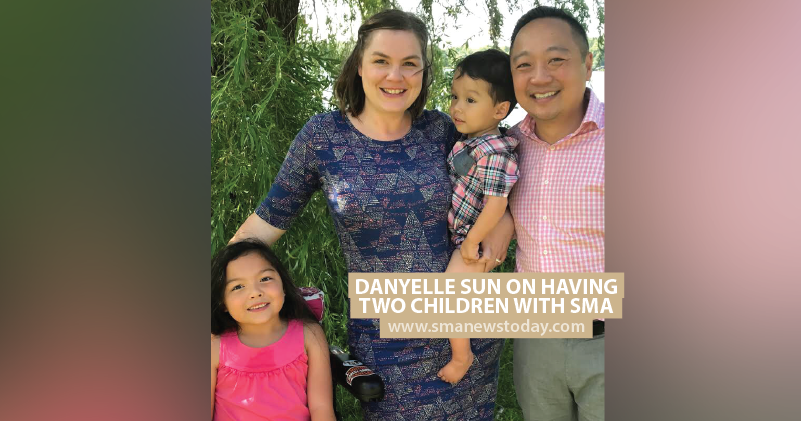 Danyelle Sun is the mother of two children with SMA, and is also a spokesperson within the SMA community. In 2017, she took part in the Patient Focused Drug Development conference in Maryland, which was organized by Cure SMA and the Food and Drug Administration.
SMA News Today caught up with Sun to discuss her advocacy work and her family life.
Kevin Schaefer: If you could start by providing an overview of your family life and talk about when your children were diagnosed with SMA.
Danyelle Sun: I live in Wisconsin with my two children, Ruby and Landon, and my husband, Terence. My mother, Margie, also lives with us. She moved in with us after we received our son's diagnosis and is a wonderful help to us, and the kids love to spend so much time with her.
Ruby was diagnosed when she was just shy of two years old. At first she was diagnosed incorrectly as type 2, but a few weeks later was correctly diagnosed as type 3. At the time she was still taking steps, but just after her second birthday, she took her last independent steps. We found out we were expecting our son Landon six months after we received Ruby's diagnosis. We had a CVS test done and received his positive test result when I was 14 weeks along in my pregnancy. We still had to wait to see when he would start to show symptoms, which occurred when he was about 10 months old and stopped bearing weight on his legs.
KS: As a mother of two SMA children, what things do you do to help your kids lead healthy, productive lives? Obviously there are limits to how much "normalcy" is attainable, but what factors help ensure that your kids are experiencing their lives to the fullest?
DS: The most important thing to us is that our children are able to try whatever they are able to do. It might look different than how other children do it, but we make whatever accommodations are necessary. This often means that we need to plan ahead, make arrangements, and prep Ruby and/or Landon on how the activity will look so that they can be best prepared for the experience. For example, if Ruby is invited to a birthday party, I talk to the parent ahead of time to find out what kind of activities will go on and what accommodations are needed. I might need to provide the parent with some training on Ruby's needs. In order to allow them to get the most out of life, I advocate for them and plan ahead. We value these steps because it also shows Ruby and Landon the importance of advocating for themselves and making plans for themselves as they grow older so they can become more independent.
MORE: SMA News Today talks to clinical psychologist Dr. Danielle Sheypuk about life with SMA
KS: Your children have been receiving Spinraza for a while now. Where are they in that stage, and what improvements have you seen lately?
DS: Ruby and Landon both had their first dose of Spinraza on July 18, 2017. They completed their first maintenance dose just a couple weeks ago. We have seen significant changes in each of them. Ruby has much less fatigue, which used to be very problematic for her. She's now much less tired when she comes home from school. She can also climb and pull herself to stand with much less effort, and is able to brush her hair and teeth with more strength. One very notable change with her is that she can safely use the bathroom by herself, with the use of a step stool.
Landon's core strength has improved tremendously. Before dosing, he fell over almost immediately when he was put into a seated position. He could rarely raise his hands over his head, and when he did, he could not do it for long at all. Landon can also roll over in bed by himself now, which has helped him (and us!) sleep much better. He is able to push his manual wheelchair much easier and can even scoot around the floor while in a seated position. This has been wonderful because now he can get to and from toys that he wants to play with. He was not able to go any of this prior to Spinraza.
KS: While advancements in research and treatments are important, another factor in making the lives of SMA individuals easier is educating our society. As someone who is engaged with the SMA community and does different kinds of advocacy, what's something you wish the world would better understand about people with SMA and other disabilities?
DS: I wish everyone understood that although Ruby and Landon having a disability does, in fact, make them different, this applies only so far as to how they do things. Their desires and goals are absolutely no different than those of their peers. It goes back to the age old adage — treat others as you want to be treated. Think of what accommodations you'd want, if you had a physical disability. How would you want the world to treat you? What physical changes in our environment and communities would you want to see for you? Now advocate for those things for others, for my children and for everyone else affected by SMA.
MORE: How to earn money without ever leaving the house
SMA News Today is strictly a news and information website about the disease. It does not provide medical advice, diagnosis or treatment. This content is not intended to be a substitute for professional medical advice, diagnosis, or treatment. Always seek the advice of your physician or another qualified health provider with any questions you may have regarding a medical condition. Never disregard professional medical advice or delay in seeking it because of something you have read on this website.