A Space of My Own: To the Batcave!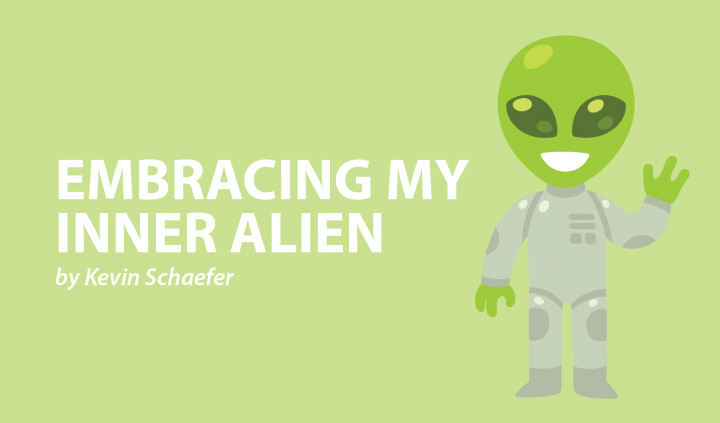 It's Sunday night, and I'm surrounded by an assortment of books, comics, DVDs, Blu-rays, action figures, and other items that one might find in a 5-year-old's room. The only outlier is my framed college diploma, which hangs right next to a giant Batman poster.
Indeed, this museum of nerdy memorabilia is my Batcave. I may not be a billionaire playboy who fights crime every night, but I do have a pretty impressive lair. I also have an Alfred, although my version is a veteran caregiver who makes wildly inappropriate jokes every time he takes me to the bathroom. 
Personal space is something most people take for granted, but it's a little more difficult for me to obtain as a person with SMA. Because I rely on people to transfer me, move my arms and legs, wipe my butt, bathe me, hand me food and sodas, set up my laptop, open my books, organize my comics, and put my action figures on display in exactly the right positions, I'm regularly surrounded by my parents and caregivers. "Me time" would be nearly impossible if I didn't have my own space. 
For years, my sister, Erin, and I had neighboring bedrooms. The wall that separated them wasn't enough to keep me from banging on her door with a toy lightsaber, but it stood there up until my sophomore year of high school. Then, when Erin moved out for college, an opportunity presented itself.
More space for me! 
At the time, I had just recovered from a rough bout of pneumonia, and as a result, I acquired a new set of medical devices. The addition of my cough assist and Vest airway clearance system made my own bedroom pretty crammed. The need for more space led to what would eventually become my Batcave.
My parents came up with the brilliant idea of tearing down part of the aforementioned wall and installing a sliding door. Voila! My evil plan to slowly take over my household was coming to fruition. 
When I first rolled into my Batcave, I felt an inexplicable sense of liberation. Finally, I had a spacious area in the house that I could call my own. Since "moving in" here about nine years ago, I've used my cave as my office, podcast studio, home theater, snack shack, and storage space for all my toys and comics. I've had more friends come hang out with me here than I can count, and many of them have admired my extensive catalog of nerd possessions. Others probably expected me to show up on an episode of "Hoarders."
The Batcave became especially helpful for me both during and after college. Because it wasn't feasible for me to move out, my home lair served as my dorm room. I wrote plenty of papers in this room, ate excessive amounts of junk food in it, and had the advantage of not having to share a bathroom with other people. Disability perks are real!
Like many other aspects of my life, my living arrangement is unique. I'm a 25-year-old working adult who lives with my parents, I rely on other people to bathe me, and I'm happy. I live a wonderfully abnormal lifestyle, and my Batcave is one of the best parts of it. 
My sister did come home for one summer after she graduated from college. I could have let her have the cave back temporarily, but I opted to remain quiet while she shared a room with our brother. Call me selfish, but this arrangement gave her motivation to get a job and move out. See? I was doing her a favor!
***
Note: SMA News Today is strictly a news and information website about the disease. It does not provide medical advice, diagnosis, or treatment. This content is not intended to be a substitute for professional medical advice, diagnosis, or treatment. Always seek the advice of your physician or other qualified health provider with any questions you may have regarding a medical condition. Never disregard professional medical advice or delay in seeking it because of something you have read on this website. The opinions expressed in this column are not those of SMA News Today, or its parent company, BioNews Services, and are intended to spark discussion about issues pertaining to spinal muscular atrophy.