I Treasured Every Moment of Hanging Out at the SMA Conference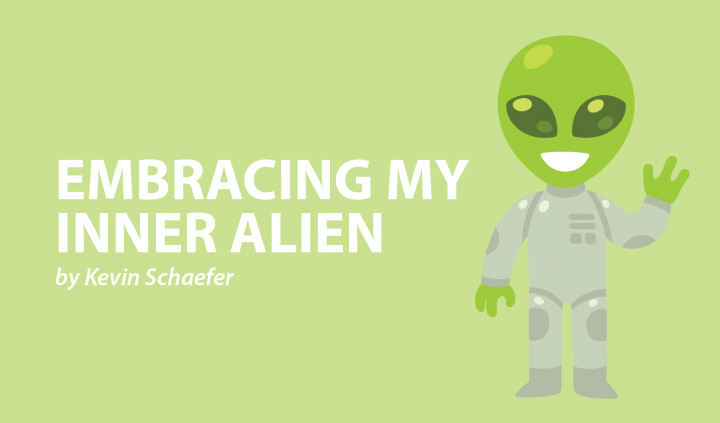 "Dude, use your robotic arm to grab my leg!"
Superstar blogger Shane Burcaw said these words to me when I met him a couple of weeks ago. Having read his books, and watched him and his fiancee, Hannah Aylward, on their YouTube channel, I fully expected a zany one-liner to come out of his mouth. I was not disappointed. 
Two nights later, I was exploring the newly opened Star Wars theme park "Galaxy's Edge" with my friends Abby and Kristen. As I explained the history of the First Order and the Resistance to them, a woman I didn't know with spinal muscular atrophy (SMA) approached me. "I like your articles!" she said. 
At first, I wondered how she'd recognized me, given that there were countless other people with SMA gathered in Disneyland that night. Then I realized that anyone who reads my columns could see my robotic arm, follow my nerd rants, and easily put the pieces together.
The next morning, I spoke on a panel with five other adults with SMA. A crowd of mostly parents asked us questions about everything from college and independence to daily living. My friend Kevan Chandler casually talked about how his friends carried him on a backpack across Europe. Y'know, nothing out of the ordinary.
I even got to meet another guy with a JACO robotic arm, and, of course, we did an epic fist-bump. 
These were just some of the things that happened at the 2019 Cure SMA conference in Anaheim, California. The annual event is the largest SMA conference in the world and a highlight for me.
For many of this year's attendees, it was their first conference. I was one of the few veteran adults present, as I've been going to these wheelchair-cult meetings since I was a kid. Not only did the sheer number of adults who came this year — 180-plus — amaze me, but it thrilled me. 
My friend and co-worker Brianna Albers was one of the "conference newbies" who came this year. About a week before the conference, she messaged me with several questions, and also to geek out about visiting the Star Wars park. 
She asked me about being able to speak clearly during the conference since she has a soft voice, about the numbers of attendees, how to manage everything, and avoid being overwhelmed. I told her not to worry. The beauty of going to an SMA conference is that everyone there "gets it." People come with ventilators, BiPAP machines, cough assists, feeding tubes, high-tech power wheelchairs, awesome robotic arms, and everything in-between. 
No one there looks at you awkwardly if you have trouble turning your head or if you need extensive help to be fed in public. When thousands of people from the SMA community are gathered in one place, the outcome is beautifully abnormal. 
And, like I told Brianna, it was overwhelming. It always is. Whenever I'm with my SMA family, whether we're rolling through Disneyland or hanging out at a hotel bar in Texas, I can't contain my thoughts and emotions. Throughout the weekend, I experienced joy, serenity, wonder, satisfaction, hope, empathy, and also remorse for my brothers and sisters who had already left us, and weren't there to celebrate. 
Since I started writing this column a couple of years ago and working for this site's publisher, BioNews Services, I've been immersed in the SMA community. I've connected with people on our forums, interviewed dozens on the SMA News Today Podcast, and I've had the pleasure of working with people from different rare disease communities every day. 
Still, there's nothing like meeting other SMAers (it's a word in our community) face to face. SMA is an individualized disease, and those of us who live with it have different needs and abilities. We have an innate ability to empathize with each other and embrace each other's abnormalities. These kinds of interactions happen once a year, and I treasure every moment.
The best comment of the entire weekend goes to my friend Tyler when we were hanging out at a bar one night: "Last time I had tequila, I tried to walk." 
***
Note: SMA News Today is strictly a news and information website about the disease. It does not provide medical advice, diagnosis, or treatment. This content is not intended to be a substitute for professional medical advice, diagnosis, or treatment. Always seek the advice of your physician or other qualified health provider with any questions you may have regarding a medical condition. Never disregard professional medical advice or delay in seeking it because of something you have read on this website. The opinions expressed in this column are not those of SMA News Today, or its parent company, BioNews Services, and are intended to spark discussion about issues pertaining to spinal muscular atrophy.