The Perfect Bite-Sized Amount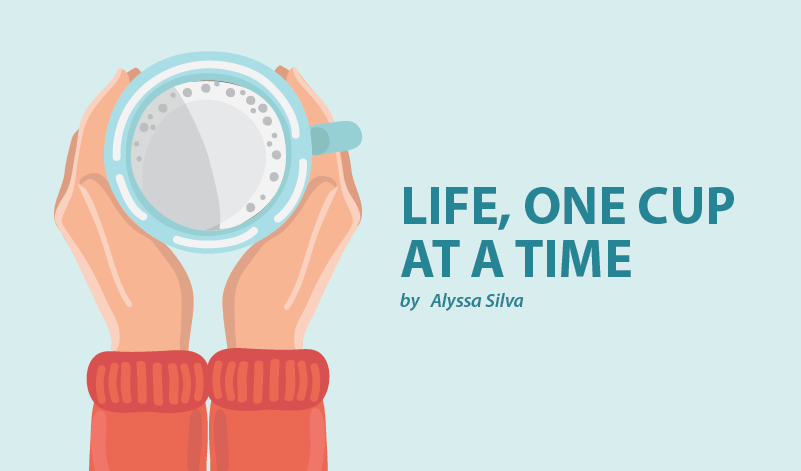 Until I was 15, I managed to stay reasonably healthy. But for the first time in almost a decade that year, I was hospitalized. The winter months can be tricky, with colds and flu taking over just about every person you come in contact with. I was admitted to the intensive care unit with walking pneumonia. (Don't even get me started on the irony of the name.)
I spent 10 days surrounded by four white walls in a bed that was far from comfortable, tangled up in tubes, struggling to breathe. I had machines constantly beeping at 3 a.m. It was completely unfair and awful, and I knew my only choice was to fight.
Although I didn't realize it at the time, while I was fighting one monster — pneumonia — another was sneaking into my life, one that would stick with me forever. Those seemingly endless hours spent lying still in a hospital bed caused certain muscles in my body to weaken to the point of no return. With my mind so focused on beating the life-threatening pneumonia, my last concern had been finding the strength to exercise.
When I left the hospital, I noticed my body felt very weak, but I had just been through the ringer and really needed time to heal. So, I shrugged it off, thinking it was nothing, that I just needed to recuperate and get back into a normal routine again. The next few weeks were spent eating, sleeping, and catching up on missed chemistry homework while daydreaming about getting back to my pre-hospital self. But, just as my lungs finally began to feel stronger, I noticed my arms began to feel weaker.
I concealed my thoughts in an attempt to convince myself that this was just a fleeting nightmare. But deep down in my gut, I knew. As time progressed, I found myself asking for more help than ever. Gone were the days I could sit in front of the television with a bowl of salt and vinegar chips, snacking on my own, being as gluttonous as I wished in my potato chip consumption. The simple task of lifting my arm to my mouth felt like what trying to lift a car would feel like — impossible. The more I tried, the more I failed. And, the more I failed, the more discouraged I felt.
Frustration and anger boiled my blood as the truth began to settle. No matter how much time passed or how much I tried to exercise my arms, I couldn't regain the strength I'd lost. This beast was winning and defeat suddenly felt all too familiar. At this point, I wasn't even able to lift my fork, and my nightmare quickly became a reality for me.
My mind began racing with these outrageous thoughts of how this new way of life was going to be. Who would know the EXACT amount of barbecue sauce I like on my chicken tenders? Would it be awkward to ask my friends to feed me? I eventually broke down in complete hysterics in front of my mom.
As I sobbed uncontrollably, releasing the bitter emotions that were bottled up inside of me, she tried to comfort me by saying that I would gain my strength back. She and I both knew that this was the reality of living with a destructive disease and that her words were just a temporary fix. I admired her optimism and need to protect me, even though it didn't change the fact that I couldn't feed myself. So, just like any other hardship I had experienced in the past, I decided not to wallow in my shortcomings, but instead, to move forward.
Although it took some getting used to, I learned that not being able to feed yourself isn't the end of the world. It's certainly an adjustment and, at times, can be frustrating. We all have our own systems when it comes to eating. We like a specific amount of food on our forks, we don't like mixing a variety of foods together, we have a perfect graham cracker to chocolate and marshmallow ratio in our minds, and so on. When eating, we're particular, and very rightly so.
When we're no longer in control, however, it's difficult to hold on to these certain expectations about the food in front of us. So, instead, we adjust. We respond the same way we would to any other shortcoming and learn ways to move forward by accepting and adapting to the situation. And, of course, we find the patience to explain the fine art of how much chocolate to marshmallow ratio we prefer on our s'mores and how it's not to be done hastily.
***
Note: SMA News Today is strictly a news and information website about the disease. It does not provide medical advice, diagnosis, or treatment. This content is not intended to be a substitute for professional medical advice, diagnosis, or treatment. Always seek the advice of your physician or other qualified health provider with any questions you may have regarding a medical condition. Never disregard professional medical advice or delay in seeking it because of something you have read on this website. The opinions expressed in this column are not those of SMA News Today or its parent company, BioNews Services, and are intended to spark discussion about issues pertaining to spinal muscular atrophy.