How a Cup of Tea Helps Me to Grieve the Absence of a Caregiver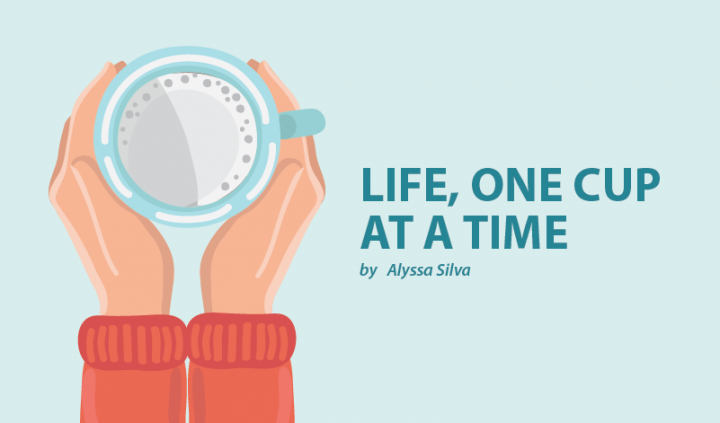 Over the winter, I drank a piping hot cup of ginger tea every night before bed. It was the only remedy that I could confidently say helped to lessen my acid reflux and ease my stomach discomfort. There was only one problem: I hated the taste.
My former nurse would commend me for fighting through it, and after the first sip graced my taste buds, she would look at me and say, "Dashcam." It was a reference to an inside joke that we shared. She thought that I had a very expressive face — especially when I drank ginger tea — and wanted a compilation of videos of my grimacing while sipping the tea to post online. I'd roll my eyes at her, and she'd point and say, "Yup! There it is again!"
Winter came to a close, and I stopped drinking ginger tea as the weather became warmer. Then, last week, I enjoyed my first cup in months. I was busy working into the night and barely noticed my current nurse walking over, giving me a sip, and walking away. Then, as the spiciness hit my taste buds, my heart sank.
"Dashcam," I thought to myself. What was once a nightly bit was now a distant memory, for my nurse had unexpectedly quit last spring due to a family emergency. It happened suddenly. I remember my mom gently breaking the news to me. She had a friend on standby in case I needed support. I had told myself that this day would eventually come and that I would keep moving forward. I thought that I was doing better than people had expected.
But, in the most menial of ways, a cup of ginger tea uncovered a truth that I had avoided at the expense of trying to move forward: I was not OK, and I needed to allow myself to process those feelings.
Losing a caregiver you've grown close to feels an awful lot like a bad breakup. In the weeks that follow their departure, every nuance reminds you of them. Their absence feels temporary, and you convince yourself that there's still a chance they'll return. You sit in your heartbreak and experience every emotion on the spectrum. People will voice their concerns, but eventually, their support will fade.
After dealing with home care nurses and other caregivers my entire life, I've been through this experience before. And each time it happens I tell myself that I am strong enough to handle it again. I will emerge from the heartbreak unscathed because this was "just a job" to them.
However, despite what I coax myself into believing, I know that it's more than a job. We had a special bond. She was another member of my family. She played a pivotal role in my well-being, becoming my trusted confidante after spending several days a week with me for years. She left a deep cavern in my heart when she moved on to a new chapter.
So, for the past week, I've been drinking ginger tea every night and wincing with every sip. In some inexplicable way, the ritual has become therapeutic for me. The tea has allowed me to grieve her absence and find happiness in the memories of those little moments that we shared. This may be a new chapter for both of us, but through cups of tea, I'm learning that it's OK to turn the page.
And for now, that's all I need.
***
Note: SMA News Today is strictly a news and information website about the disease. It does not provide medical advice, diagnosis, or treatment. This content is not intended to be a substitute for professional medical advice, diagnosis, or treatment. Always seek the advice of your physician or other qualified health provider with any questions you may have regarding a medical condition. Never disregard professional medical advice or delay in seeking it because of something you have read on this website. The opinions expressed in this column are not those of SMA News Today, or its parent company, BioNews Services, and are intended to spark discussion about issues pertaining to spinal muscular atrophy.