How to Hug a Wheelchair User with a Robotic Arm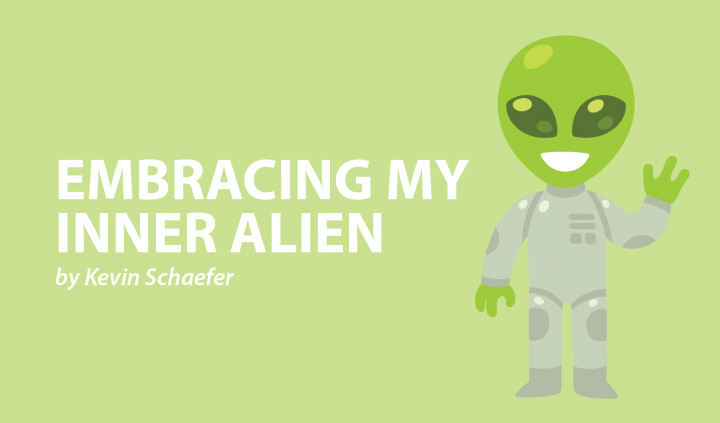 Of all the technologies that I use in my everyday life, the two most important ones are my wheelchair and my JACO robotic arm. My chair keeps me moving from one place to the next, and my robotic arm compensates for many of the tasks at which my arms suck. 
The latter is also an excellent tool for showing off in public. I recently made an appearance on one of my favorite YouTube channels, "Squirmy and Grubs," and dozens of people left comments about how cool my "Doc Ock" arm is. 
Still, there is a downside to living life as a high-tech cyborg: physical human contact can be a little tricky. I'm unable to lift my arms, and once I'm up in my chair, I'm wrapped in a cocoon of assistive devices. I have my tray in front of me, my JACO arm to my left, and hip and lateral supports on both sides to keep me in an upright position. 
Though I depend on this setup to get me through each day, it does make something like giving a hug a bit more complicated than it is for a non-cyborg. 
"Hey good to see you! OK … uh … yeah, come around the arm, and uh … I can't lean over. Can you come around this way? Yes, right there!"
To make it easier for all of the other Iron Man impersonators of the world, I've come up with a simple guide for how to properly embrace one of us. Following are my three tips for hugging a wheelchair user who has a robotic arm. 
Don't knock the joystick

This is a fairly important tip to keep in mind. When you lean in to hug a wheelchair user, make sure to steer clear of the joystick. We — or most of us — like to receive hugs, but we don't want other people to spin us around and make us pop wheelies against our will. If you're not careful in these situations, you could inadvertently wind up in a wheelchair yourself. 
Look for an open space
Despite the number of wires, supports, and other devices surrounding me and many other wheelchair users, most of us have some open space that we can use. My right side has sufficient space above my armrest for people to lean in to embrace me. Look for this sweet spot, and don't ram into a person's robotic arm!
Remember that wheelchair users are not immune to physical contact
The main purpose of this column is to remind able-bodied folks that those of us in wheelchairs are perfectly capable of physical human contact. Sometimes, when people refrain from hugging me, I wonder if I look like The Thinker from "The Flash" television series. While I do have some high-tech devices surrounding my body, I'm no 1950s sci-fi movie or comic book villain. I promise that I don't bite; I just might run people over occasionally. 
Like any aspect of living with SMA, it takes some creativity for me to give and receive hugs. I could also try offering a hug with my robotic arm some time. Though, I'd better hope I don't accidentally strangle anyone this way! 
***
Note: SMA News Today is strictly a news and information website about the disease. It does not provide medical advice, diagnosis, or treatment. This content is not intended to be a substitute for professional medical advice, diagnosis, or treatment. Always seek the advice of your physician or other qualified health provider with any questions you may have regarding a medical condition. Never disregard professional medical advice or delay in seeking it because of something you have read on this website. The opinions expressed in this column are not those of SMA News Today, or its parent company, BioNews Services, and are intended to spark discussion about issues pertaining to spinal muscular atrophy.