Making Connections Through SMA Enriches My Life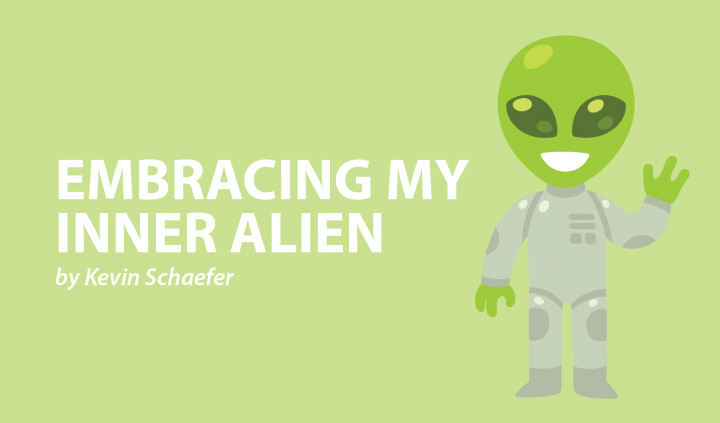 A couple of months ago, a woman stopped me in the hallway of the clinic I go to for physical therapy. She overheard me talking with one of my physicians about my Spinraza (nusinersen) treatments, and she asked me to speak with her two teenage sons who both have SMA. Both sons were pretty reluctant to try Spinraza, and the mother was hoping I would help them reconsider.
I spent the next few minutes talking with these guys about SMA stuff, my awesome JACO robotic arm (which they were quite enamored with), and what kind of video games they were into. I shared with them that I also was terrified about receiving the injections, but I'm glad I went through with it. They left the conversation a little more at ease, and I think it was beneficial to get advice from someone who "gets it." 
Last week, another interaction took place at the same clinic. A visiting physical therapist from Texas approached me and asked about the speed of my chair. "It can make the Kessel Run in less than 12 parsecs," is what I should have said. We joked about popping wheelies with it and seeing if it could cruise down the highway. Normally when I get the "how fast does that thing go?" question, I get annoyed. In this instance, however, I could tell that this guy wasn't using this line as a cheap icebreaker to awkwardly converse with me.
We talked some more, and I learned that he had a teenage friend with SMA. I told him that I'd love to talk with his friend sometime, so we exchanged business cards.
At the last comic book convention I went to, I met an artist who was helping mind the table for Magic Wheelchair, an organization that makes specialized costumes for kids in wheelchairs. We spent a few minutes geeking out over obscure horror comics, and then we learned a bit about each other's stories. He survived a liver transplant a few years ago, and I told him about my life with SMA and what I do. I also had a copy with me of an anthology that I contributed to, and we're now talking about collaborating on a post-apocalyptic comic that I pitched to him.
My favorite story in recent memory happened a couple of weeks ago, when I went to see "Avengers: Endgame" for a second time. As my friends and I waited for the trailers to start, another guy in a wheelchair took a seat in the same row as us. I didn't see his face when he came in, but on the way out of the movie, we recognized each other from a 2017 SMA fundraiser.
We spent the next few minutes catching up, and as he drove away with his friends, I turned around to my friend Kenny, who was already grinning. Anticipating his words, I spoke first, "Yes, I know what you're thinking. Every wheelchair user knows each other."
Interactions like these happen all the time for me. I make connections with people whether it's at a hospital, a movie theater, a restaurant, or at a bar where someone sees my JACO arm and says, "Cool drinking arm, man!" I have many friends and acquaintances, but I also talk with strangers regularly.
One of the most powerful nuances of living with SMA is the sheer amount of conversations that stem from it. Not all of these conversations are good, and many are insanely awkward. Ignorance will always exist in society, and it's something I deal with no matter where I go.
Still, I'm constantly reminded of the positive encounters I've had, as well as the ways in which my disability has helped me to better connect with people. It's a strange effect of living with a neuromuscular disease, but it's one I'm grateful for. 
By the way, that "cool drinking arm!" story really did happen.
***
Note: SMA News Today is strictly a news and information website about the disease. It does not provide medical advice, diagnosis, or treatment. This content is not intended to be a substitute for professional medical advice, diagnosis, or treatment. Always seek the advice of your physician or other qualified health provider with any questions you may have regarding a medical condition. Never disregard professional medical advice or delay in seeking it because of something you have read on this website. The opinions expressed in this column are not those of SMA News Today, or its parent company, BioNews Services, and are intended to spark discussion about issues pertaining to spinal muscular atrophy.